Women, Wellness and Cannabis Buying Trends
Cannabis is now mainstream with most of the U.S. legalizing usage and the majority of Americans supporting the end of federal prohibition. Consumers can purchase high-quality cannabis products almost anywhere and no more hiding in the shadows.
As the market grows it is starting to include more and more women who are interested in the wellness perspective of cannabis that can address maladies like insomnia, and sexual health. According to the annual State of Cannabis report by Eaze, a technology platform for legal cannabis, 2018 was the year of the female cannabis consumer with women consumers almost doubling usage. The Eaze Insight Report came from 450,000 cannabis consumers and 4,000 survey respondents.
According to the head of policy research at Eaze, Peter Gigante, "We see a strong majority of women using cannabis for wellness reasons like personal care and improved sleep." The study called 2018 a "monumental year" and the "dawn of cannabis wellness" as more people, especially older women, turn to it for better health.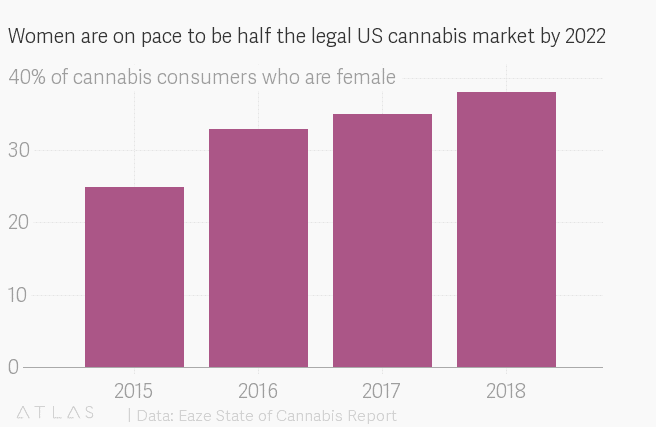 The Cannabis Consumer is Changing
Women are gaining ground in the cannabis market. The total number of women consumers using cannabis has grown 92% since 2015 Eaze reports. The gender balance is shifting with female consumers nearly doubling from 2017 to 2018, and market share overall for women rose 3% for the last 3 years in a row. If women keep up the rapid pace for cannabis consumption then we will see equal gender consumers by 2022.
Which Cannabis Products are Women Buying?
As we see the female cannabis consumer segment grows subtle preferences are starting to emerge. The Eaze study also indicates that women prefer "beginner" products that are easy-to-use.  They do not want complicated products that need paraphernalia. The most popular product names were based on the intended results like calm, happy, or relief. 
Women Love CBD 
One piece of data from the report that stood out was that CBD was the breakout star for 2018. CBD doubled its consumption year-over-year and female baby boomers made up 21% of all purchases. The interest in CBD grew faster for women who primarily bought edibles, drops, and topicals. Gummies were the most popular edible product followed by bites, cookies, chocolate, and mints.
The Eaze study also saw growth in CBD face and body creams among female baby boomers. Cannabis appeals to women of every age, race, and economic background and even luxury brands are starting to pick up on the trend. The high-end department store Barney's in Beverly Hills is selling cannabis lifestyle products and strives to offer customers an elevated experience."The High End" offers luxury rolling papers, custom blown glass pipes, and a stunning array of CBD infused beauty products. 
Women Want Wellness
Men and women consume cannabis products for different reasons according to the Eaze report. 67% of women consumers use cannabis products for personal care products like creams and 84% use it for sleep. Men, on the other hand, mostly use cannabis for in-home-entertainment. Women use cannabis differently because they are more focused on wellness but men use it mostly for recreation. 
Women Want Pain Relief
Consumers across all demographics of the study reduced their use of pharmaceutical pain meds but women and baby boomers found the most relief from making the switch to natural cannabis alternatives. Women reduced their prescription pain medication by 36% and baby boomers by 49%.
A Growing Wellness Market
Women make the majority of household purchases and according to the U.S. Consumer Expenditure Survey, single women spend on average $400 a year on drugs and as legalization takes hold, those drugs will be replaced by cannabis products. The global wellness market is worth 4.2 trillion dollars and will continue to steadily grow and women control 85% of it.