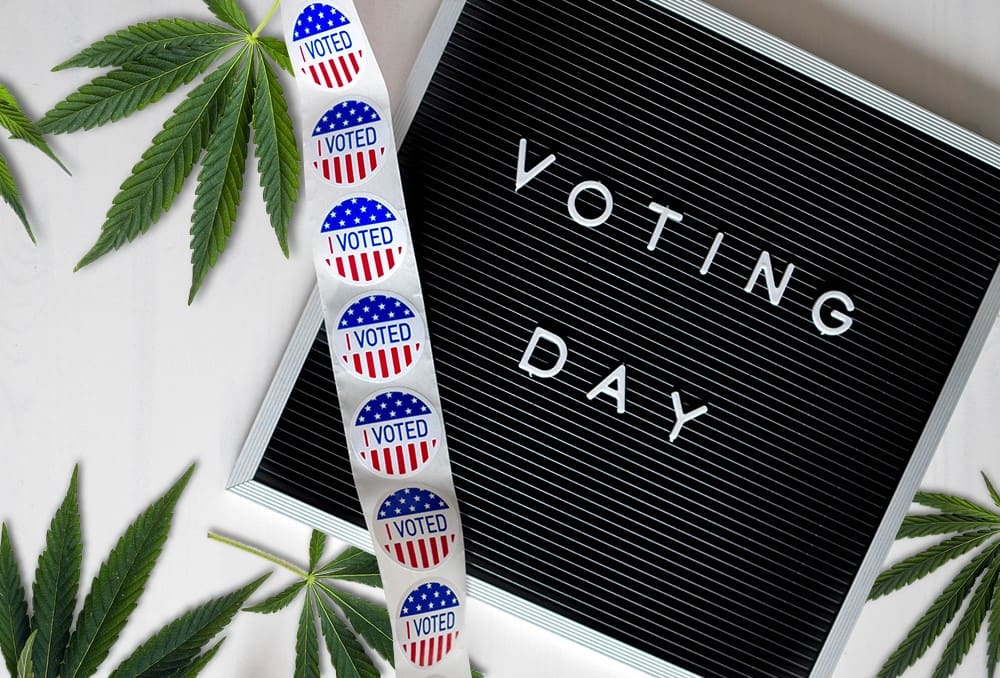 Table of Contents
Click to jump to your state:
Cannabis on the 2020 Ballot
2020 is a big year for the ballots in more ways than one. It is especially important for cannabis legislation. Some of the most notoriously anti-cannabis states have begun exploring comprehensive cannabis legislation, allowing for debate around both medicinal and recreational cannabis initiatives within their borders.
As far as we're concerned, it's time. It's time for comprehensive cannabis legislation to allow for new agricultural, economic, and societal endeavors. Hemp has over 25,000 estimated uses, making it a prime commodity for agricultural production. It will also boost economic growth.
Both hemp and marijuana have shown medicinal potential, leading to a decreased reliance on expensive prescription medications and an increase in our scientific understanding of how cannabinoids such as CBD can affect our health and livelihood.
As of right now, only 12 states (including D.C.) have completely legalized cannabis medicinally and recreationally. These states are:
Alaska
California
Colorado
District of Columbia (D.C.)
Illinois
Maine
Massachusetts
Michigan
Nevada
Oregon
Vermont
Washington
While these states are important for the future of cannabis research and the cannabis industry at large, we will not be discussing them today. Instead, we wish to focus on the states that have yet to completely legalize cannabis, or those that have not legalized cannabis at all.
Cannabis legalization is important for all aspects of the cannabis industry, including the CBD industry. Legalizing recreational cannabis on a state-by-state basis removes pre-established roadblocks that tend to interfere with CBD and cannabinoid research. Through legalization efforts in state municipalities, we are able to conduct more research, learn more about cannabis and its effect on our minds and bodies, profit from the cannabis industry and create tax revenue, and take substantial strides towards universal, federal cannabis legalization, the penultimate future of the cannabis movement.
To start, we'll look at some of the upcoming 2020 ballots that could turn medicinal cannabis states into recreational cannabis states.
---
States With Current Medicinal Cannabis Legislation
Here are the states that have already implemented medicinal cannabis laws. We will discuss whether or not these states are likely to pass recreational cannabis initiatives on the 2020 ballot, or if these states will include recreational cannabis initiatives on the ballot at all.
---
---
---
---
---
---
---
---
---
---
---
---
---
---
---
---
---
---
---
---
---
---
What Does 2020 Hold for States With No Current Cannabis Legislation?
Now that we've looked at all the states with existing medicinal cannabis laws and what their futures may bear for recreational cannabis initiatives, it's time we look to the "wild cards."
These are the states that have no existing cannabis legislation, medicinal and recreational alike. However, 2020 may prove to be a big year in the legalization of cannabis. In fact, states considered to be the most notoriously anti-cannabis in the country are considering legalization, and even some who may jump straight from total prohibition to full (medicinal and recreational) legalization.
---
---
---
---
---
---
---
---
---
---
---
---
---
---
---
---
---
---
What if All States Pass Their Cannabis Legislation This Year?
There are currently 12 states (including Washington D.C.) that allow for the legal adult use of recreational cannabis, but if all states with proposed recreational cannabis legislation pass their bills in November, we could be looking at an enormous spike in the availability of recreational cannabis nationwide.
That number would jump to 28, and the list of states allowing recreational cannabis would then include all of the following. States where recreational cannabis is already legal are denoted in bold:
Alaska
Arizona
Arkansas
California
Colorado
Delaware
District of Columbia (D.C.)
Hawaii
Illinois
Kansas
Kentucky
Maine
Massachusetts
Michigan
Missouri
Montana
Nebraska
Nevada
New Jersey
New York
North Dakota
Oklahoma
Oregon
Pennsylvania
Rhode Island
South Dakota
Vermont
Washington
Why is recreational cannabis legalization important? Because the more cannabis is legalized recreationally, the more it becomes accepted by society. Groups that previously opposed cannabis legislation will begin to see the plant's positive socioeconomic impact on society, allowing for an increase in industrious cannabis uses.
This would not only lead to a spike in the hemp market, where hemp will become more commonplace among goods like textiles and building materials, but it would lead to more funding for medicinal cannabinoid research.
With a vast legalization push throughout the country, we could see the number of available clinical research trials into things like CBD increase tenfold.
And what about states that may legalize medicinal cannabis in 2020? There are currently 34 states (including Washington D.C.) with medicinal cannabis laws already in place, but after November 3, that number could become as high as 42. Here are the states that would then allow medicinal cannabis within their borders. Again, states with current legislation are denoted in bold:
Alabama
Alaska
Arizona
Arkansas
California
Colorado
Connecticut
Delaware
District of Columbia (D.C.)
Florida
Hawaii
Idaho
Illinois
Kansas
Kentucky
Louisiana
Maine
Maryland
Massachusetts
Michigan
Minnesota
Mississippi
Missouri
Montana
Nevada
New Hampshire
New Jersey
New Mexico
New York
North Dakota
Ohio
Oklahoma
Oregon
Pennsylvania
Rhode Island
South Carolina
South Dakota
Utah
Vermont
Washington
West Virginia
Wyoming
That would leave the number of states without any cannabis legislation at just 8, and those states would include:
Georgia
Indiana
Iowa
North Carolina
Tennessee
Texas
Virginia
Wisconsin
Nebraska is not included on either of these final two lists as it's possible the state will legalize recreational cannabis but not medicinal cannabis, oddly enough. If Nebraska legalizes recreational cannabis in 2020, they will be the first state to do so prior to establishing medicinal cannabis legislation.